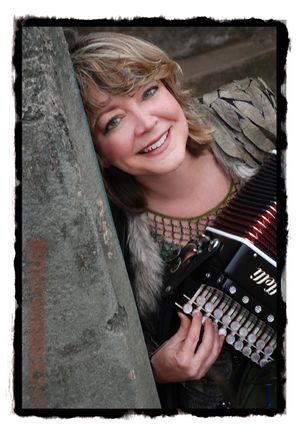 Jennifer Cutting happily blends careers as a bandleader, composer, instrumentalist, ethnomusicologist, and record producer. Blending the formal training of her Bachelor's and Master's degrees in music with a passion for both traditional and electronic musics, she is one of few women bandleaders working in her genre. With her previous band The New St. George, her recent CD Ocean: Songs for the Night Sea Journey, and her new live band the Ocean Orchestra, Cutting has pushed the boundaries of "Celtic," "Folk" and "Folk-Rock," creating arrangements with sweeping orchestral sounds, shimmering ethereal electronics, authentic traditional instruments and a hard-hitting rhythm section.

Cutting is a composer and bandleader by family tradition and a musician and ethnomusicologist by training. Cutting's two grandfathers, one from England and the other from Ireland , were the inspiration for her natural synthesis of British and Irish musical traditions. Her English grandfather, Ernest Cutting, was a conductor and talent scout for NBC in the 1930s, directing orchestras for Kate Smith, Eddie Cantor, Jack Benny, Jimmy Durante, Fred Astaire, Rudy Vallee, and others. Following in his footsteps, she earned her Bachelor's degree in orchestral and choral conducting. Her passion for folk music was developed through her association with British folk revival leader A.L. Lloyd. In the early 1980s she became Lloyd's last and youngest protégée, soaking up the same blend of scholarship and joy in performance that he had also imparted to members of Fairport Convention and Steeleye Span.

After returning to the U.S. , Cutting spent more than ten years as director, composer, arranger and performer with The New St. George, one of the most significant British folk-rock groups on this side of the Atlantic . Following the retirement of that band, Cutting spent years composing, arranging, playing and producing the outstanding and award-winning CD OCEAN: Songs for the Night Sea Journey, collaborating with international superstars such as Maddy Prior and Peter Knight (Steeleye Span), Dave Mattacks (Fairport Convention) Tony Cuffe (Ossian) and Troy Donockley (Iona [UK]). Now Cutting is back leading a band, interpreting selections from OCEAN as well as newly composed and arranged material, with her group the OCEAN Orchestra.

Cutting is a multiple award winner in all areas of her musical career. The New St. George earned her fifteen WAMMIE awards from the Washington Area Music Association. She won the 2003 WAMMIE for best contemporary folk instrumentalist. Most dramatically, she swept the 2004 WAMMIE awards, winning "Musician of the Year," "Songwriter of the Year," and "Best New Artist," as well as "Album of the Year" and "Best Contemporary Folk Recording" for OCEAN. She has won two Maryland Governor's Citations for composition, and prestigious national-level songwriting awards, such as First Prize in songwriting at the Merle Watson Festival, and American Songwriter Magazine's Song of the Year.

Cutting is head of SunSign, her own international production company, and has her own studio in Takoma Park, Maryland, just outside Washington DC.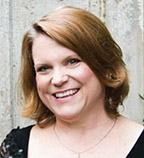 CHRIS NOYES (Vocals, Guitar) is renowned for her glorious voice and her skillful acoustic guitar playing. She hails from Baltimore, where she got her start playing Irish music at the Gandy Dancer in the early 1980s. She sang and played with top Celtic groups such as Helicon before moving to Maryland's Eastern Shore. There, with other leading musicians of the coast, she formed Crab Alley, a band dedicated to traditional and original music of the Chesapeake Bay. In 1994 she was awarded a Maryland Governor's citation, a prestigious individual artist grant. She also produced a solo album, Mirrorstones. Chris was one of the original musicians in the OCEAN project, played in the first Ocean concerts, and appears on Ocean's first two albums. She has a master's degree in music education, and is a longtime music teacher, both in Eastern Shore schools and in private.  A beloved figure for her teaching and her music in her home community, she has also been a mentor to many folk singers and guitarists across the region, including Ocean's own Lisa Moscatiello.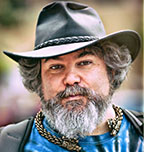 STEPHEN WINICK (vocals, percussion) specializes in traditional ballads and sea chanteys, and is both a performer and an expert lecturer and teacher, bringing a scholarly depth to OCEAN's concerts and educational programs. Steve has been singing traditional songs in English and French since his childhood. In the early 1990s, he spent several summers under the tutelage of the late Dublin ballad singer Frank Harte, one of the foremost traditional ballad singers in Irish music. Steve is a member of Ship's Company Chanteymen, in which he performs a repertoire of sea chanteys and historical songs. He was engaged as an expert scholar and researcher for the 2008 Washington Christmas Revels, which presented the music of Québec.  He ended up also performing one of the lead roles in the show, for which he sang traditional songs in French to an audience of thousands.  He reprised his role on the 2010 CD release Le Temps des Fêtes, and in the same year appeared on OCEAN's CD Song of Solstice. He has a Ph.D. in Folklore and Folklife from the University of Pennsylvania, where he studied under song specialists Kenneth S. Goldstein and Roger Abrahams. He has taught courses in folklore and folksong at the University of Pennsylvania, George Washington University, and George Mason University. 


Multi-Genre violinist/fiddler Seán Heely is one of the most creatively versatile and captivating young artists of his generation. He is a U.S National Scottish Fiddle Champion as well as an award-winning Irish Fiddler and singer in the folk traditions of Scotland and Ireland. Seán holds a degree from University of South Carolina in Classical Violin Performance and was a 2019 Artist in Residence at Strathmore Music Center in Maryland.  An educator in demand, Seán is an Adjunct Instructor at American University, he has also been on the faculty at several summer camps such as Acadia Traditional School of Music and Arts, Upper Potomac Fiddle Retreat, and Fiddle Hell Festival. He was selected to compete in the prestigious Fleadh Cheoil na hÉireann All-Ireland Senior Fiddle competition in Aug 2017. He has performed in Scotland, Ireland, and at venues in the U.S such astheKennedy Center in Washington, D.C.As a tunesmith, Seán has won national awards including the 2016 Scottish Fiddling Revival's Tune writing competition. He is also an accomplished arranger. Along with his accolades in Traditional Music, Seán is an accomplished Classical violinist.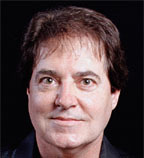 RICO PETRUCCELLI (electric bass) is a D.C. native and a veteran musician, having performed with Mary Chapin Carpenter, Chuck Berry and Charlie Byrd, among others. Also an engineer, arranger, composer and producer, he engineered several classic area recordings, including Shearwater by Pete Kennedy, and composed many commercial jingles heard daily in the region. Rico played in Jennifer Cutting's British folk-rock group The New St. George, and with Cutting co-produced their award-winning album High Tea.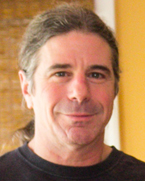 ANDY HAMBURGER (Drums) is one of the busiest working drummers in the Mid-Atlantic region. From rock to funk, jazz to new age, blues to Latin, Andy has covered an amazingly wide range of musical styles for more than 20 years, with credits on several dozen albums, and well over a hundred local and national commercials and movie trailers. In addition to OCEAN Orchestra, Andy has performed or recorded with The Temptations, The Drifters, The Coasters, The Platters, The Marvelettes, Junkyard Saints, and too many other bands and headliners to list. He has appeared at the D.C.-area's best music venues, including the Kennedy Center, Blues Alley, and Strathmore Hall. In addition, Andy shares his skills with the next generation by teaching younger drummers at the Levine School's Summer Rock Camp.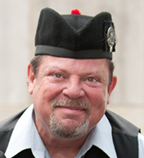 TIM CAREY (Highland bagpipes) won first place in his first international competition in Toronto, Canada at the age of twelve. He won his first professional prize in 1971. His exposure to playing with the famed City of Toronto Pipe Band led him back to the States to play with the Denny and Dunipace Pipe Band, the band he first started playing with in 1966. He took over as pipe major of the band in 1982 through 1989 and stayed on with the band through its transition from being called The Scottish and Irish Imports Pipe Band to finally The City of Washington Pipe Band where he remains an active member.